My Experience With the CPHQ Recertification Audit Process
The random audit of my CPHQ recertification application in September 2021 was uncomplicated. Planning and a methodical approach to collecting and documenting continuing education (CE) credits are key to a smooth and successful recertification.
2022 marks the fifteenth year of my certification as a CPHQ. During this period, the Healthcare Quality Certification Commission (HQCC) and Healthcare Quality Certification Board (which was what the HQCC was called before its name change) has recertified me seven times, the last being in September 2021.
As I was writing the last post on the new recertification requirements the NAHQ/HQCC announced last week, it occurred to me that people might be interested to learn more about the CPHQ recertification audit process from the CPHQ's point of view.
For what it's worth, the HQCC describes the audit process for recertification applications as follows:
Each year the HQCC randomly selects 5% of applications to be audited. If your application is selected for audit, you will receive an e-mail with detailed instructions on how to complete the audit process.

You will be requested to upload documentation for the Continuing Education (CE) activities you listed in your recertification application within 14 days of being notified of the audit. You will not need to upload documentation for NAHQ CEs. You will only need to upload documentation for Non-NAHQ CEs.

For your Non-NAHQ CEs, be prepared to submit a photocopy of your CE certificates or written documentation of activities for which a CE certificate was not provided (e.g., a journal's table of contents showing you as author of an article, school transcript, etc.).

If a CE program you attended does not meet the definition of an approved program, submit a copy of the behavioral objectives and an outline of the content (e.g., a program brochure) in addition to a copy of the CE certificate.

Certified Professional in Healthcare Quality 2022 Recertification Handbook, Pages 11–12.
In this article, I'll relate my own experience when my application for recertification was audited last September and share some tips on how to make the audit process as painless as possible.
Recertification Audit in September 2021
I applied for recertification on September 28, 2021 through my account on the NAHQ website. I had accumulated a total of 30 CEs between January 1, 2020 and September 28, 2021 – these CEs were documented in my NAHQ account and in Evernote for my personal records.
Immediately upon accepting my order and payment for recertification, the system sent me an automated email telling me my application had been randomly selected for audit.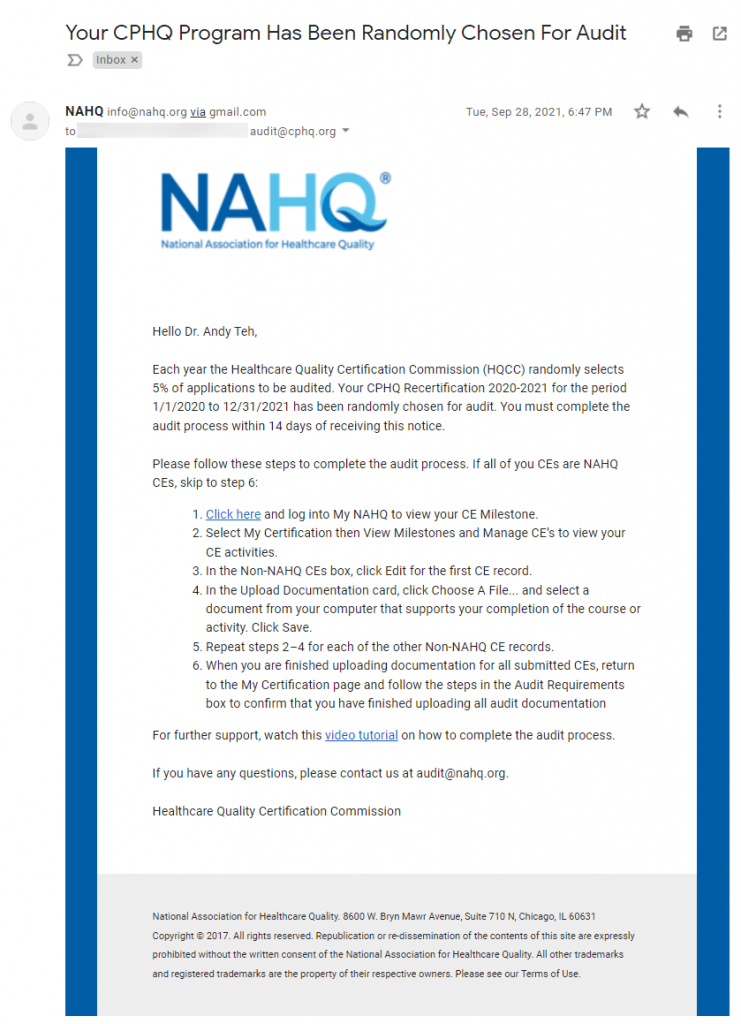 This was the seventh time I had applied for recertification but the first time my application had been audited.
Because I had always prepared for audit by the HQCC (like how I'm always prepared for an IRS audit), submission of the required documentation was a trivial matter.
By design, I only used NAHQ activities for my CEs. Other (non-NAHQ) professional development activities I had participated in had added more value to my work (often considerably more value), compared with the NAHQ's offerings, but I deliberately omitted them from the CE records in my NAHQ account to avoid the hassle of justifying the merits of any documented CE activity to the NAHQ/HQCC.
As all the CEs I had earned were NAHQ activities, they were automatically recorded in the system on the NAHQ website for recertification in the future.
So, in response to the email above, I logged into my NAHQ account, clicked a few buttons to review my CE records, and arrived at the following section.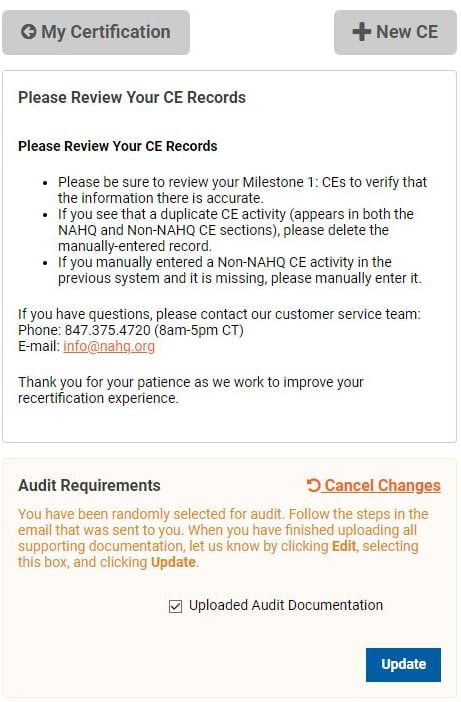 I clicked the "Update" button and that was it.
The response message "Uploaded Audit Documentation" confirmed successful submission of my CE records.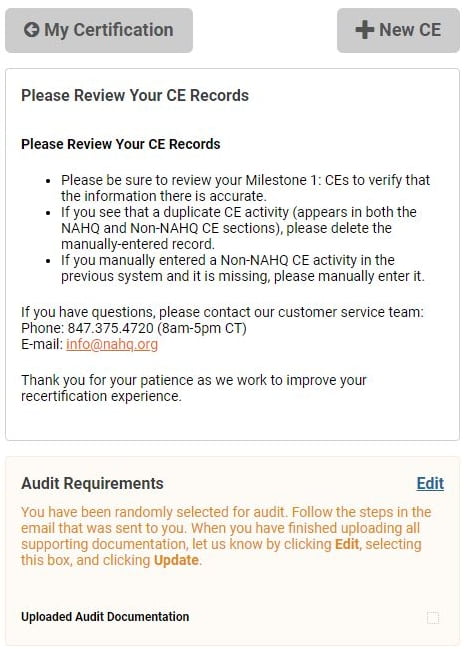 I also received an email acknowledging receipt of the documentation supporting my application for recertification.
Three minutes later, I received the following email.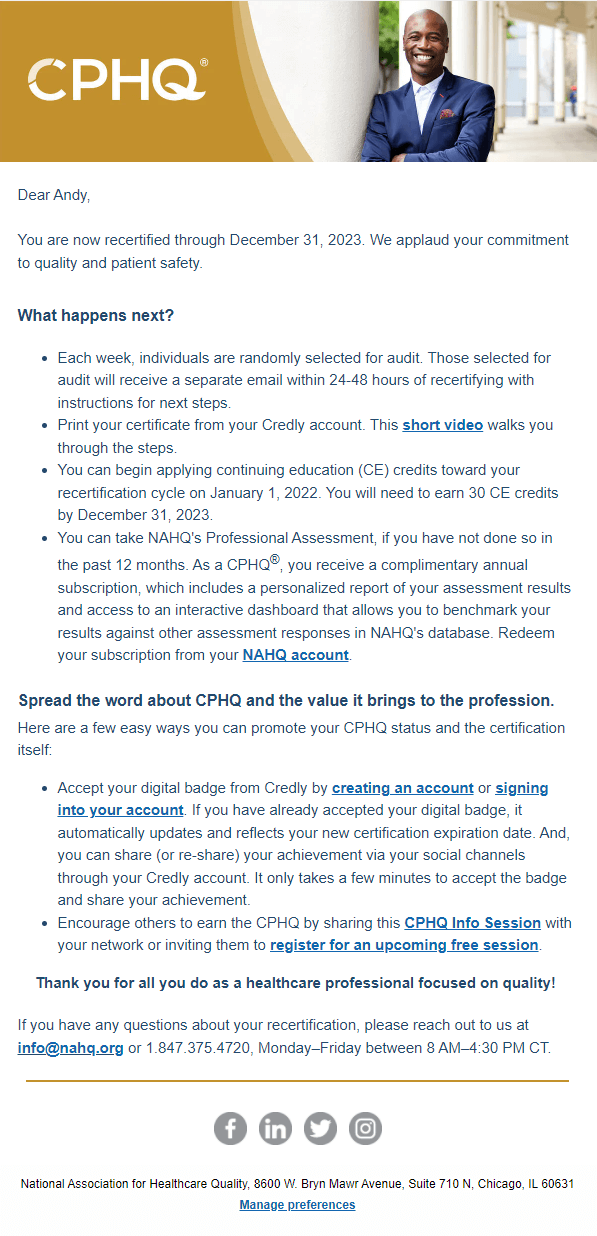 It took me less than 10 minutes from the time the HQCC's email arrived in my Google Workspace Gmail Inbox to successful submission of the necessary documentation – see the timestamps on the first two emails above.
Less than 30 hours later, I received another email from the NAHQ informing me that I had "passed" the audit.🙂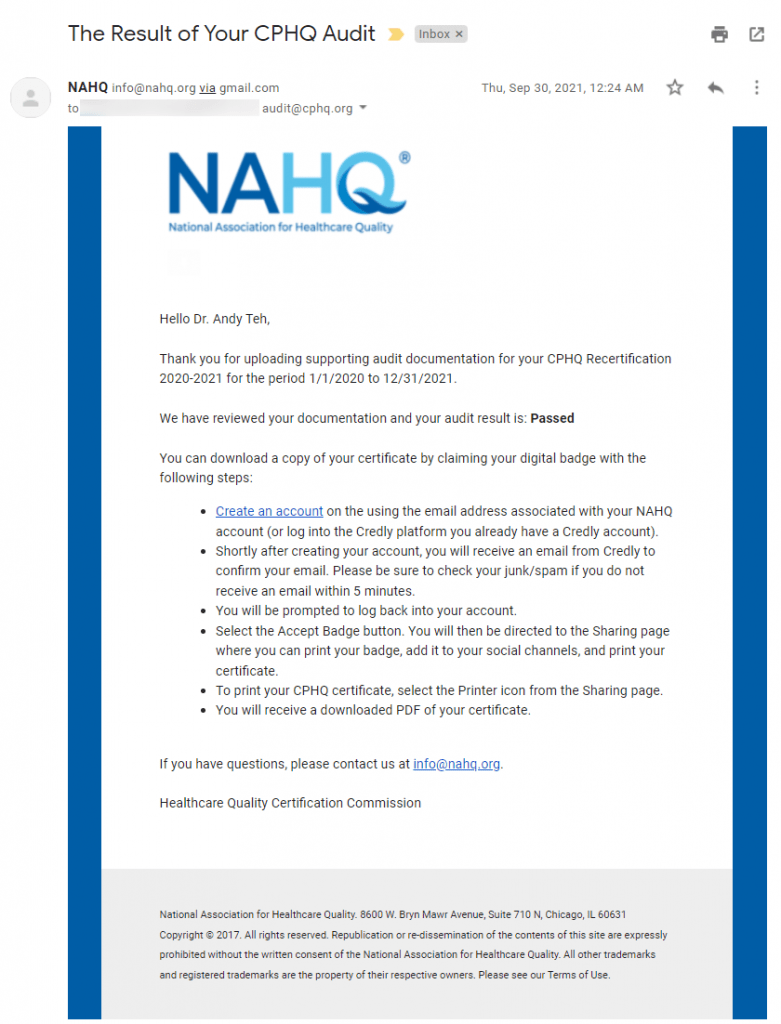 Tips on Preparing for a CPHQ Recertification Audit
Create an Action Plan
Plan your CE activities at the start of your recertification cycle. Write down your plan so that it becomes concrete. Make sure your plan is realistic and, if executed, will meet the requirements for recertification. Consider discussing your action plan with someone you trust will give you honest feedback.
Start Earning CEs Early
Begin collecting your CE credits early. Doing so means you won't struggle to find suitable opportunities to earn CEs with only a few weeks remaining in the recertification cycle, which also lessen the chance you'll feel the need to cut corners. The latter introduces unnecessary risks to renewal of certification, and is, therefore, out of the question for me. I'm not one to game the system.
Check For Eligibility for CE
"All CE must relate to at least one area included in the most current examination content outline." It is imperative you check that any activity you intend to use for CE meets at least this one criterion, which, in my opinion, is vague and open to interpretation. And there lies a problem. It is possible an activity submitted for CE credit is determined not to meet the requirements for CE at the time of recertification, in which case the CPHQ risks having their credential revoked. I have side-skirted any such complication by choosing NAHQ CE activities only – I am aware this is not an option for everyone.
To date, the HQCC has not required any of the 30 CE credits to be earned through NAHQ or NAHQ-approved activities. However, for those among us whose certification expires at the end of 2023 and beyond, eight of those 30 CEs will have to be NAHQ-approved. (Going forward, I presume all NAHQ CE activities will be deemed "NAHQ-approved" – I will post an update here if I learn otherwise.)
Select NAHQ or NAHQ-Approved Activities If Possible
Undoubtedly, if you select NAHQ or NAHQ-approved CE activities, you will minimize friction come recertification time.
I believe the most straightforward way to access NAHQ CE activities for most people is through an individual membership. Priced at $235 per annum, this membership is not cheap, but I have not found an alternative solution that offers the same level of convenience in earning CEs.
If you had a choice between an NAHQ-approved CE activity (not offered by NAHQ directly) and a non-NAHQ-approved one, I'd suggest you consider taking the former for the purpose of CE. However, if the latter activity promises to deliver unique and/or outstanding content, I'd probably go for it and opt for something else to collect CE.
Keep a Personal Record of Your CEs
Regardless of whether you earned your CEs through NAHQ activities or not, I recommend you keep a personal record, e.g. in a table in an Evernote note (as I do) or a Google spreadsheet, for your own reference. In addition, I suggest you store all relevant documentation of your CE activities, which can later be used as supporting material in your recertification application in a secure location – this includes any certificate, published course/conference/workshop/webinar content outline, or relevant article or book you might have written. Hard copy documents, such as paper certificates, can be scanned and uploaded to your preferred online storage service, e.g. Evernote, Google Drive, Dropbox.
In my last recertification cycle, all my CE activities were provided by NAHQ and were conducted online, and I was provided a digital certificate for each of them. I kept, and continue to keep, all my certificates in an Evernote folder labeled "CPHQ Recertification."
You should ensure the record of your CE activities in your NAHQ account is up to date. Nevertheless, having your own personal record offers some protection if something goes wrong with the NAHQ's system – should this happen, you will still have your own documentation to refer to when the time comes for you to apply for recertification.
Conclusion
A CPHQ recertification audit need not be intimidating. By planning and applying a disciplined method of accruing and documenting CEs, you can expect to sail through the process.
---
Subscribe to Our Newsletter
Subscribe to the CPHQ Tutor newsletter to receive ongoing information about CPHQ exam preparation, happenings in the CPHQ program, and our products and services.