Ace the CPHQ Exam: Study Smart, Not Hard
Passing the Certified Professional in Healthcare Quality (CPHQ) certification exam isn't difficult. Persons with appropriate experience in healthcare can achieve a great score, and do so efficiently, by concentrating their efforts on the material emphasized in the exam.
The CPHQ exam is like a game.
From the outset, you'll need a good game plan and objectives that are SMART – Specific, Measurable, Achievable, Realistic, and Trackable. Only then can you execute the plan with precision to pass the exam.
Simple, isn't it? 😉
Developing a great strategy and methodically implementing it are signature characteristics of my consulting firm Teh & Associates. In our series of CPHQ exam tips, we'll guide you in creating your own game plan to ace the CPHQ exam!
This article discusses an approach that should save you many hours of exam preparation time.
The CPHQ Certification Exam in a Nutshell
Let's first review some details about the CPHQ exam. It's a computer-based, multiple-choice question (MCQ) exam that assesses your knowledge about healthcare quality management. The examination aims to test "generic concepts that can be applied to any healthcare setting globally". You'll have 140 questions to complete in 3 hours – 125 questions are used for calculating your score, another 15 are "pre-test questions" – the latter are questions that don't contribute to your score but are being evaluated for possible inclusion in the exam in the future.
The Healthcare Quality Certification Commission (HQCC), which sets the exam questions, claims that there is no way to distinguish between the "real" and pre-test questions; I disagree – pre-test questions tend to stand out like sore thumbs. With some training and practice, I believe most people will be able to tell the difference.
The CPHQ Exam Content Outline
Every three years, the HQCC conducts a survey of healthcare quality professionals to better understand the tasks that they perform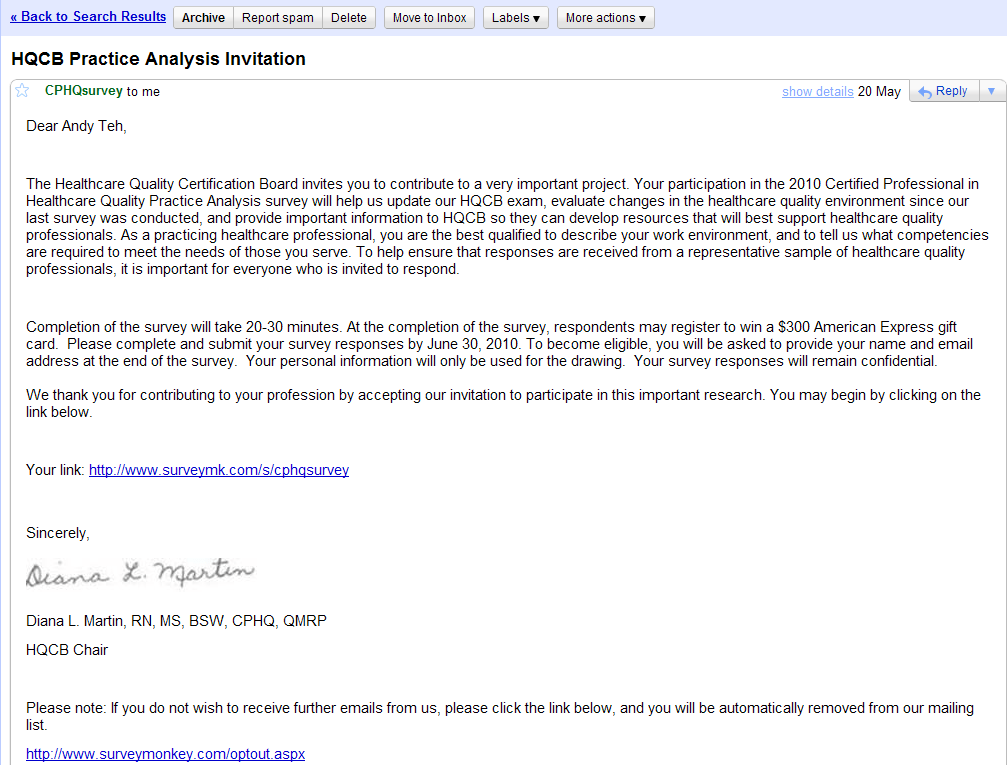 Each question on the exam is linked to one of the tasks identified on the practice analysis. The tasks fall into one of the following four broad categories:
Organizational Leadership (35 items; 28%)
Health Data Analytics (30 items; 24%)
Performance and Process Improvement (40 items; 32%)
Patient Safety (20 items; 16%)
These four main categories above follow the current CPHQ exam content outline (i.e. the one effective from January 2018 till present update, i.e. October 11, 2020). These categories have been called other (similar) things in the past, e.g. "Management and Leadership" instead of "Organizational Leadership", "Information Management" instead of "Health Data Analytics", "Performance Measurement and Improvement" instead of "Performance and Process Improvement." I wouldn't worry too much about the semantics.
For each question, one of three different "cognitive levels" will be required for a response: recall (23% of the questions in each category), application (57%), and analysis (20%). Here's the HQCC's description of each question type:
Recall questions test the candidate's knowledge of specific facts and concepts. Application questions require the candidate to interpret or apply information to a situation. Analysis questions test the candidate's ability to evaluate, problem solve or integrate a variety of information and/or judgment into a meaningful whole.
(Fun fact: The HQCB/HQCC has left the wording of the definitions of these terms exactly the same in more than 15 years!)
Eligibility Requirements
Unlike many other professional certification programs, anyone can sit – but not necessarily pass – the exam; there are no eligibility requirements. This is what the HQCC has got to say about eliminating barriers to certification, such as minimum education and/or experience requirements:
After years of extensive experience in testing research and development and after observing the extraordinarily diverse backgrounds of exceptional candidates who have been successful on the examination and as CPHQs, the Board is confident that the carefully crafted international CPHQ examination will differentiate between candidates who are able to demonstrate competence and those who are not.
(Again, the wording of this part of the Candidate Examination Handbook has not altered for more than 15 years.)
Too good to be true? Hardly.
After many years of working with healthcare quality professionals throughout the world – both CPHQs and non-CPHQs – I tend to believe the HQCC's assertion: the exam is sufficiently robust to tell who is CPHQ material.
Applying the Pareto Principle in Your CPHQ Exam Preparation
Let's face it: most of us have neither the time nor energy to read everything listed in the CPHQ content outline.
Some may have sufficient practical experience in the field of healthcare quality to cover gaps in theoretical knowledge.
But many others aren't that fortunate. In fact, I know of some individuals who are pursuing CPHQ certification so that they can land a quality job, with which they can subsequently gain more healthcare quality experience. A bit of a chicken-and-egg quandary.
The Pareto Principle
But here's the good news: we can use the Pareto Principle, also known as the 80/20 Rule, to focus on the major components of the exam, thereby giving you the highest possible return for your investment in study time and other resources.
Application and Analysis Questions
More than 75% of the exam will consist of application and analysis questions. Furthermore, as the HQCC states, the exam tests "generic concepts", not academic minutiae (over which some people become needlessly concerned). This means plenty of rote learning isn't going to help much.
Answers to application and analysis questions tend to be matters of judgment. In our training, we emphasize key concepts, give lots of examples and pose questions that make participants think about how to analyze various scenarios and how to apply the quality principles that they've learnt in the context of these scenarios. We think this approach is a preferable way of preparing for application and analysis questions on this exam.
Needless to say, persons who have appropriate experience in healthcare (in terms of both duration and type) tend to fare better for these question types. However, with exercises aimed at "fine-tuning" our trainees' thought processes in quality management, we have found that relatively inexperienced individuals can also do very well.
Tasks Associated with Performance and Process Improvement
Most of the questions will be in these three categories: Organizational Leadership, Health Data Analytics, and Performance and Process Improvement. Don't divide your study time equally among the four categories. You should probably spend most of your study/reading time on Performance and Process Improvement (which represents the largest category of the exam content), particularly if you're not familiar with the tasks listed in the exam content outline under this category.
On the other hand, if you have already mastered the tasks associated with Performance and Process Improvement, you probably should redirect your attention to the other categories.
Unfamiliar Tasks
Review the examination content outline and identify those tasks that you are (a) lacking experience in, or (b) unfamiliar with. You should spend more time on these tasks compared to others in which you are adept.
Remember the Law of Diminishing Returns?
Well, it applies here as well: you are unlikely to learn much more (or improve your score significantly) if you are already competent in a particular area.
Careful Selection of What to Study
Also, within each category, there are things that you absolutely need to know (and therefore read) and other stuff that is superfluous. Knowing what items to study within each of the four major categories is key to succeeding in the CPHQ exam in the shortest possible time frame.
In our series of CPHQ exam tips, we'll define and discuss the most important concepts that you need to know for the exam.
Conclusion
Preparation for the CPHQ exam requires work, including a substantial amount of reading. You are expected to have working knowledge of "everything" in the exam content outline but you need not read up on every task.
By focusing your energy on the most crucial elements of the CPHQ exam (e.g. application and analysis questions, Performance and Process Improvement, tasks unfamiliar to you), you'll give yourself a great chance of doing well for the exam with a relatively modest investment of time and effort.
Here's to your CPHQ exam success!
Andy Teh, CPHQ
Full-time Healthcare Quality Consultant and Professional CPHQ Coach
---
Subscribe to Our Newsletter
Subscribe to the CPHQ Tutor newsletter to receive ongoing information about CPHQ exam preparation, happenings in the CPHQ program, and our products and services.